V40: Expert Style Tips - Top Tips for a Great Cinco de Mayo Mexican Celebration by Fany Gerson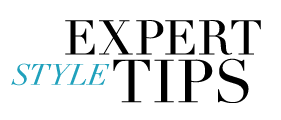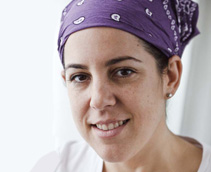 FANY GERSON A graduate of the Culinary Institute of America, Fany Gerson has worked in many kitchens—from the three-Michelin star Akelare in Spain, to Eleven Madison Park and Rosa Mexicano in New York, where she developed their celebrated modern Mexican desserts. Fany's work has been featured in Gourmet, the New York Times, Fine Cooking, Daily Candy, and New York magazine. She splits her time between her native Mexico and New York City.
"Fany is a longtime client of mine whom I met when designing her wedding invitations many years back. Since then she has followed her dreams and launched La Newyorkina, her very own Mexican ice cream shop in NYC! Her ice pops are perfect for parties or just as a treat for yourself on a hot summer day. A must-try! Plus, her new book, "My Sweet Mexico" is full of wonderful recipes for authentic Mexican sweets that all of us can try making at home. I'm so proud of Fany for turning her dreams into reality!" - CECI JOHNSON
Find out how you can win $4500 in prizes, including an autographed copy of Fany Gerson's book, "My Sweet Mexico"!
Top Tips for a Great Cinco de Mayo Mexican Celebration by Fany Gerson:
Drink: Instead of serving only one type of margarita at your party, consider setting up a mezcal and/or tequila bar with ice and either fresh fruit or fruit purees (and a blender if you want to do them frozen). You'll need a good quality mezcal and/or tequila and fresh fruit (mangoes, watermelon, berries, etc) cut into pieces, which you can stir into the alcohol. Alternatively, create purees using passion fruit, guava, mangoes, tamarind and strawberries with a lot of ice. You can either stir or blend the alcohol, ice and puree for a frozen margarita-type beverage.

Color: Create a colorful setting using fuchsia, yellow and orange. The brighter, the better!

Eat: Slice some jicama, cucumbers and fruit (like oranges or mangoes), toss with chile powder (piquin or chipotle), fresh lime juice and salt. Then put them on skewers for a healthy and delicious snack that is found all over the streets of Mexico.

Fun: Try Mexican frozen pops as a fun treat for your guests. They are great on their own, or you can dip them in tequila. To learn more, visit La Newyorkina to place orders and ask about flavors.

Music: Put on some fun Latin music – essential for a Mexican fiesta!

Decor: When decorating, avoid anything that looks cheesy. Instead use natural items like dried chiles, colorful fresh flowers, fresh fruit, or seashells if you're by the sea.

Sweet treats: No party would be complete without dessert. Try making any of the recipes from my recent book, "My Sweet Mexico." Enter to win this week's giveaway and you could receive an autographed copy!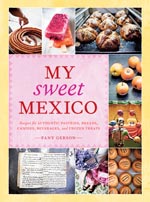 Discover more on Fany Gerson or purchase the book now