V38: Savvy Style Advice - Ashleigh Rader, Real Bride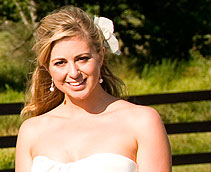 ASHLEIGH RADER In planning our wedding, I read every wedding blog and magazine I could find and went into complete inspiration overload! It really helped to narrow my focus to the element most important to us: making our guests feel special.
What It's Like to Be a Ceci Bride:
Ceci helped me to define what I wanted to communicate through our wedding suite - the look, the feel, the color palette. The creative process was inspiring and personal, and our invitations were original, gorgeous, and totally "us"!
View Ashleigh's wedding invitations and wedding photos in Our Muse