V36: Savvy Style Advice - Candace Moore Nagle, Real Bride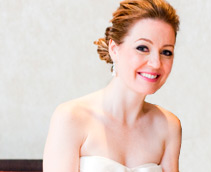 CANDACE MOORE NAGLE I could write a novel about owning your style and making your wedding unique. But the one thing I really took from my wedding day was this: work with the best vendors you can. Seems like an obvious tip, but I truly learned that it was better to work with a reputable vendor and do something on a smaller scale than to use a less-known vendor and feel like I was getting a great deal. Yes, there are lots of talented people out there and many opportunities to shop and research. Ultimately, reach out to your dream team and be honest about your budget, then inquire about what they can do for you. Don't be afraid to ask. Vendors love nothing more than enthusiastic brides who are fans of their work, trust me! You may be surprised about the options presented to you and how it can work in your favor. The vendors you choose to work with will impact your entire planning process and your wedding day. The second you hire someone, you are trusting them completely with this event. Take it seriously and work with the best.
What It's Like to Be a Ceci Bride: Given that I work at Ceci New York, I thought I would know exactly what I wanted for my invitation – not the case! Just like so many of our clients, I loved aspects of a bunch of different invitations, but wanted something completely unique for my wedding. I felt like I was all over the map during my Ceci Couture creative consultation with my boss! The best thing is that Ceci knows how to listen and help direct the creative flow. She picked up on my love of pewter, grey, and metallics. I wanted the invitation to feel elegant, classic, modern, and to really set the tone for the wedding. I went through the design process, gave feedback on the design rounds, and really had a great time being on the client side of the experience. To be a Ceci bride is a treat – hands down one of the most fun and creative experiences I had during my wedding planning process. I'll never forget seeing the printed invitations and how excited I was to take them to the post office and send them off. My guests continue to talk about how beautiful they are and my mother-in-law had all her friends send her their invitations after the wedding so she could stockpile a bunch of them. There are so few things you get to keep from your wedding day. The invitation is the one thing that I have framed in our new home. I smile every time I see it.
View Candace's wedding invitations and wedding photos in Our Muse