V33: Expert Style Tips - Tips on Achieving the Best Hair for Your Wedding at the Plaza by DM Hair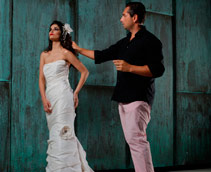 DM HAIR DM's extraordinary passion for his work and sensibility towards beauty has allowed him to share his love of hair in Palm Beach, Miami, New York and L.A. DM's creations have filled the pages of fashion and bridal magazines and he has coiffed celebrities for red carpet events and made every bride look like a movie star. DM is undeniably the leading hairstylist for luxurious hair. DM's amazing ability to create signature hair for his clients, brides and celebrities has secured his position as one of today's most sought-after stylists.
"Every girl knows it's the ultimate treat to get your hair done. A great stylist can make you feel like a million bucks in a matter of minutes. But when you're in the wrong hands, the opposite can also easily happen. That's why I always turn to hair genius DM. Over and over again he has proved that there is no 'do he cannot do. He always takes my straight, boring hair and turns it into a gorgeous creation. Plus, his precision and speed allow you to relax and even show off multiple styles in one evening! Working with someone as picky as I am, he has never let me down yet. Not to mention his star-studded portfolio. It's such an honor to work with a true artist and professional." - CECI JOHNSON
Top Tips on Achieving the Best Hair for Your Wedding at the Plaza by DM Hair:
Opulent hair: A bride throwing a lavish wedding at The Plaza should always have her hair up and off the shoulders to accent her beauty. Great ideas are the classic chignon, the perfect side- or back-bun, the modern French twist, and Audrey Hepburn's hairstyle in "Breakfast at Tiffany's". But make sure you keep it on the modern side – nothing too tight or fussy looking.

Best wedding hair: The secret to having great hair for either your wedding or everyday is to create proper texture. Not washing the hair the day before and avoiding products will create natural oils and give your hair lasting texture and flexibility. If you insist on washing your hair the day-of, then I suggest blowing your hair completely dry with your head upside down to lift your roots. Then use a large curling iron to lock in your cuticle and finish with hair spray (before and after) to help create that day-after texture.

Glamourous accents: The best hair accessories are real crystals – not plastic. Beautiful flowers are great only if the flowers are small. All accessories should complement the wedding dress and not take away from the beauty of the bride.
Discover more on DM Hair