V31: Expert Style Tips - Tips on Getting Married in Hawaii by Pacific Weddings Magazine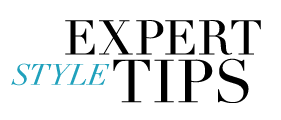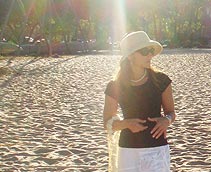 PACIFIC WEDDINGS Robyn I'aea founded Pacific Weddings® magazine in 1999, when the term "destination wedding" was just beginning to surface in the wedding world. Her idea to share the intrinsic natural beauty of the Hawaiian Islands came up in a conversation among three close friends at a beach house. Since that time she has collaborated with the most talented photographers, floral designers and accomplished chefs to conceive of fresh editorial ideas that convey a timeless sense of style.
"I've always loved both Hawaii and weddings - to have a magazine that highlights the two is a dream come true. Pacific Weddings is one of the best resources for destination brides and I highly recommend it to anyone getting married on the West Coast or Hawaii. It's full of beautiful ideas and the latest tips and trends for a beautiful wedding. Kudos to Robyn for making her dream become a reality—and now inspiring us all!" - CECI JOHNSON
Tips on Getting Married in Hawaii by Pacific Weddings Magazine:
Divine Design: A Hawaii wedding doesn't require a passport, but the local culture of the Aloha Spirit is alive and well in the Islands. Hiring a kama'aina (local) wedding designer will save you time, money, and a tremendous amount of needless stress. He or she will help you navigate traditional customs, coordinate vendors who understand your personal aesthetic, and guide you through the maze of decisions you will face from across the Pacific.

Site Specific: Your wedding site should dictate many of the design elements of the wedding, and you will have an amazing array of locales from which to choose including private estates, white sand beaches, and sprawling luxury resorts. Hawaii has so many hidden enclaves, and a destination wedding can be as glamorous or as low key as you desire. Once you've decided on a location, the real fun begins! I suggest pulling tear sheets from wedding and fashion magazines or perusing a great fabric store for inspiration. When you have a jumping off point (it can anything from a gorgeous textile to tropical fruit), share this with your designer, and your personal vision will begin to take shape. For a recent Maui wedding at the Haiku Mill, we took our cue from the estate's French antiques. You can see how the design evolved from the original sketches, but is perfectly aligned with the garden surroundings.

Forecast Fun: One of the best things about a destination wedding is that you can invite a long list of relatives, and usually just your closest friends and family will make the journey. Instead of just one day, your wedding will become a week-long celebration allowing everyone to settle in to the slower rhythms of island life. Don't feel pressured to plan every moment of the vacation (your guests will appreciate the freedom of discovering Hawaii on their own). But you will want to plan at least a few group activities in the week preceding the wedding. A private catamaran sail, a beach barbecue, a traditional luau and dozens of fun activities will create the most amazing memories for you and your families. By the time your wedding day arrives, your in-laws will feel like old friends.

An Island Away: Do your homework before you decide where you will be married. Each of the Hawaiian Islands has its own mystique, and at least one of them will fulfill and likely exceed your expectations. Oahu offers a mix of big city and local flavor, with world class shopping in Waikiki and the country life of the North Shore. Maui is quite a bit slower paced, and you'll be fascinated by the vastly different landscapes of rugged volcanic mountains and shimmering sandy beaches. Like all of the islands, there is no shortage of talented chefs on Maui. If you want to truly get away from it all, look to the Garden Isle of Kauai or the spiritual landscape of the Big Island. And you can step even further back in time on the sleepy island of Lanai without sacrificing little luxuries of life. The Four Seasons manages the only two resorts there - need I say more?

Tropical Beauty: Warm weather and typical trade winds can be a challenge when it comes to hair and makeup. Tropical humidity can create curls for some of us and a major lack of body for others. I always suggest a trial hair and makeup day when you have something special planned, such as a bridal shower or a night out with your intended. And don't forget sunscreen in the days preceding the wedding. Tan lines and strapless gowns are not a good mix.

Native Intelligence: You won't regret your decision to forgo the expense of flying in a mainland photographer to cover your wedding. Hawaii is home to some of the most talented shooters in the nation, and they understand the subtle nuances of lighting and timing specific to Hawaii. Each of them has a list of their favorite "secret spots" off the beaten path, where they can capture day-after images for posterity. The experience of hiking to a waterfall or finding a hidden beach all to yourselves will afford you stunning photographs and beautiful memories together.

Ho 'okamalani: Shower Your Guests with Aloha: Arrival gifts are important, especially for key people in your wedding party. Ask you wedding planner to assist you with pulling together a cute beach bag filled with a map, sunscreen and some local favorites. I love the Malie Organic spa line made in Kauai.

Lei of Love: Leis are a language of love in Hawaii. If someone dear to you is unable to make the trip, consider sending them a lei to make them feel part of your wedding day.

Indigenous Species: Using locally grown plants and flowers in your table designs will create a seamless look to an al fresco event. At the same time, florists can bring in almost any variety of flower depending on the season. So if you have your heart set on peonies, ask for them.

Honeymoon Away: When the excitement of the wedding is complete, steal away to another island so you have time alone. A twenty minute flight and a few extra days before returning home will make your time away even sweeter.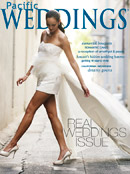 Discover more on Pacific Weddings Magazine