V30: Savvy Style Advice - Isabelle Brochard, Real Bride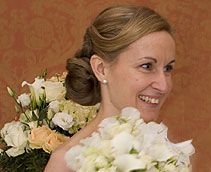 ISABELLE BROCHARD When it comes to selecting a venue, a dress, flowers, and stationery, I recommend staying true to yourself. Go for things that make you feel comfortable and that really reflect who you are. The same way you want to be surrounded by your close friends and family on your wedding day, you want to make sure that you'll be wearing a wedding dress you love regardless of the brand and that you'll be surrounded by flowers that make you smile.
When my fiancé and I were looking at chateaux in the Loire Valley, we saw some beautiful and dramatic venues. We fell in love almost instantly - not with the largest or the most dramatic one, but with the one where we knew that we, along with our friends and family, would be most comfortable and share a memorable weekend.
Ceci designed our invitations and knew exactly what we were looking for. The invitations set the tone of the wedding perfectly and were also true to us, our personalities, and our tastes. We have it framed at home.
View Isabelle's wedding invitations and wedding photos in Our Muse