V24: Ceci Inspirations - Old Movie Star Style
OLD MOVIE STAR STYLE
I've always felt the pull of the stage. Before starting Ceci New York, my life was the theater. I admit, I was in three shows a year performing my little heart out and dreamed of Broadway's bright lights. To this day, I still love anything that involves dressing up and adds a dash of the theatrical to my life. That's why I felt instant kinship when I met a client named Lacey, a remarkable woman with a passion for playfully dramatic style. Vintage clothing—preferably from the '30s—is the hallmark of her one-of-a-kind look.
I was more than excited when she and her soon-to-be husband, Benjamin, asked me to work on their wedding invitations. Since a walk down the aisle is like a bride's moment on the stage, I decided to play up Lacey's star turn. I gave the invites an Old Hollywood poster look that riffed on the Frank Capra comedy "It Happened One Night" (Lacey and Benjamin's invitation title: "It Happens this Spring!"). The back of the main invite featured a 1930s-style portrait of the couple that my team and I drew by hand, while the RSVP card resembled a vintage movie ticket. I'm pleased to say that the end result was a huge success!
In keeping with this week's theme, I wanted to have my own fun moment in the spotlight. As you can see in the photos below taken at Alice Tully Hall - which, by the way, is a great place to hold a wedding or special event - my theatrical side still lives deep inside me. What's old is definitely new, so I'm also offering a round-up of fashion accessories with decidedly retro flair. For more yesteryear thrills, check out the photos from Lacey's incredibly inspirational wedding. In another special nod to new beginnings, don't miss this week's gallery of vintage wedding photos sent by close friends and family—and the modern gowns we matched them with. Hooray for happy endings!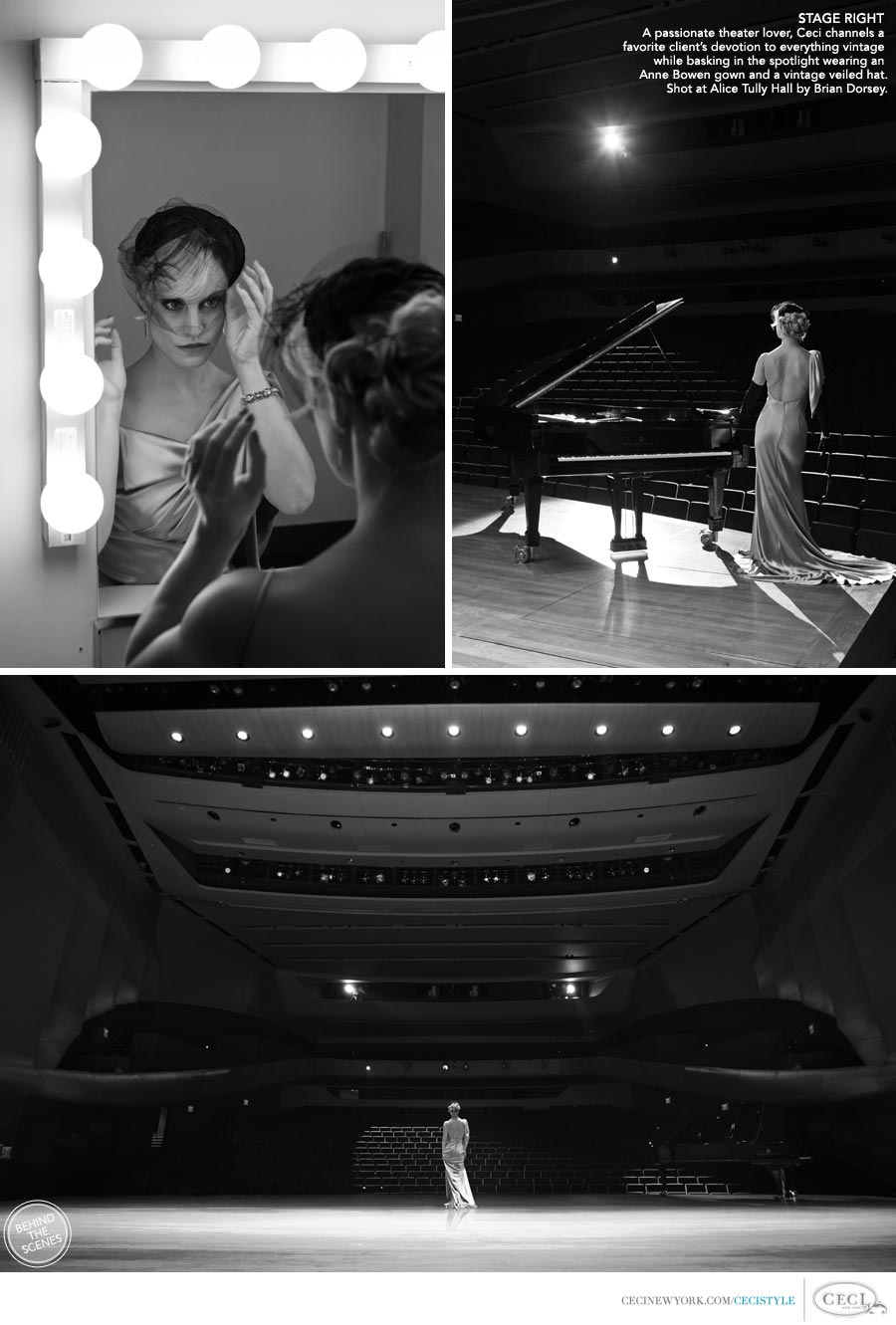 Photography by Brian Dorsey Studios
View the Behind the Scenes now!