V14: Ceci Inspirations – The Art of Giving Thanks
THE ART OF GIVING THANKS
One of my favorite things in the world is receiving a thoughtful thank you card - it really does put a smile on my face. I also never forget to thank others with a simple letter, not just because it's good manners, but because I enjoy letting someone else know how much their thoughtfulness is appreciated.
To encourage you to get in a thankful frame of mind, I'm holding the inaugural Ceci New York Art of Giving Thanks Contest. The most inspirational thank you note will influence my next collection. Also, the winner will receive a year's worth of Ceci stationery, a value of over $450!
Here're the details: using Ceci stationery (which you can purchase online or at a local participating retailer), you are kindly asked to write a thank you note and send it to my showroom. The twist is that you won't be thanking me. Rather, you'll be thanking a special individual - your parents, a beloved teacher, your fiancé - who has moved you profoundly. Maybe it won't be a person, but an aspect of your life that you're grateful for; getting married, finally moving to the city of your dreams, or surviving a health scare. If writing's not your thing, feel free to say it with pictures via a drawing or an inspiration board.
To qualify, the card must be postmarked by November 30th and addressed to: Ceci Johnson Art of Giving Thanks Contest Ceci New York, 130 West 23rd Street, Second Floor, New York, New York 10011.
I can't wait to read what you write. Have fun and good luck!
In the meantime, below is a special "thank you" gift guide for those times when you've run out of ideas to express your gratitude. It's always worth the effort to send a little something, wouldn't you agree?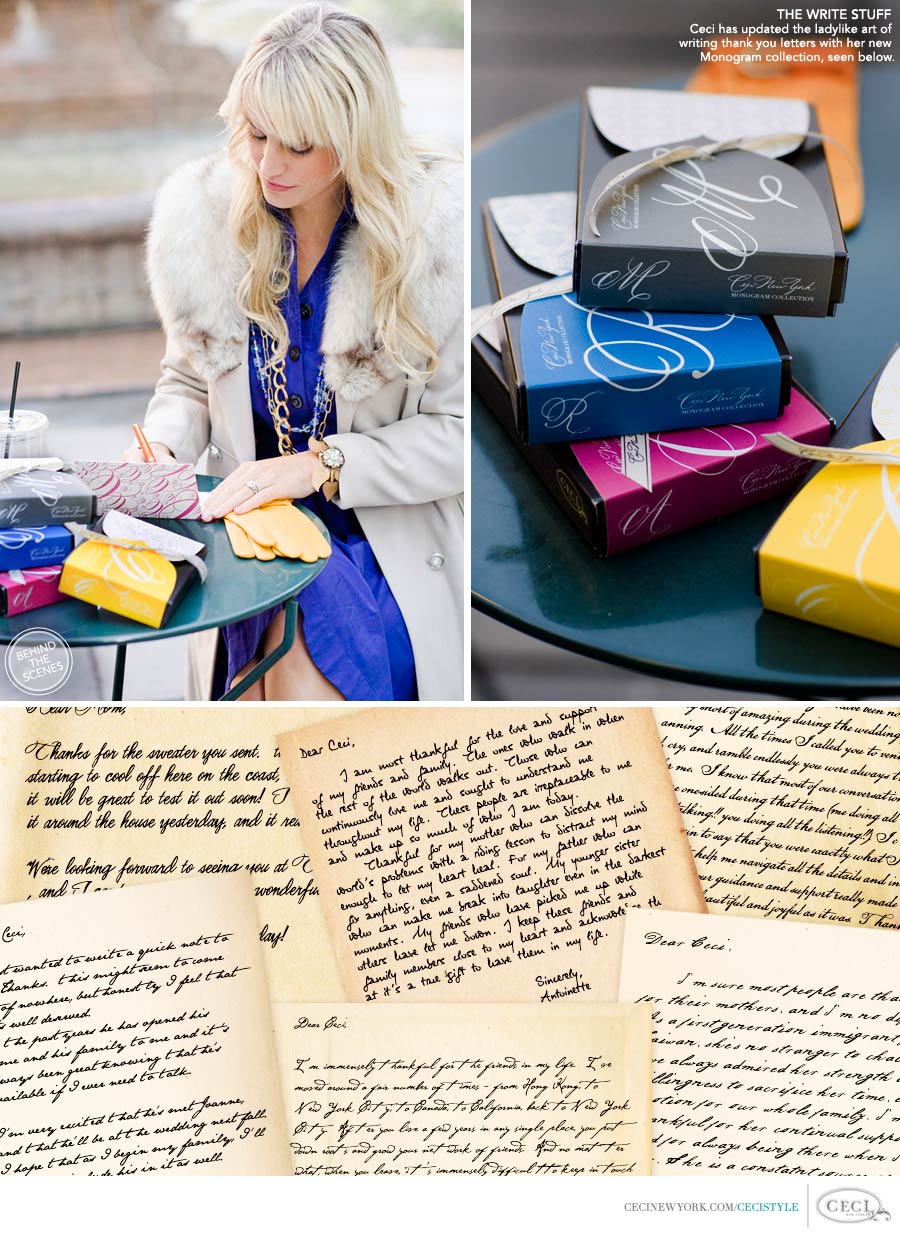 Photography by Corbin Gurkin Photography
View the Behind the Scenes now!